The leadership of St. Michael's Episcopal Church is an important part of who we are and what we are about. St. Michael's Church consists of clergy, program staff and support staff. We also have a strong and active Vestry, which is the governing body of the church.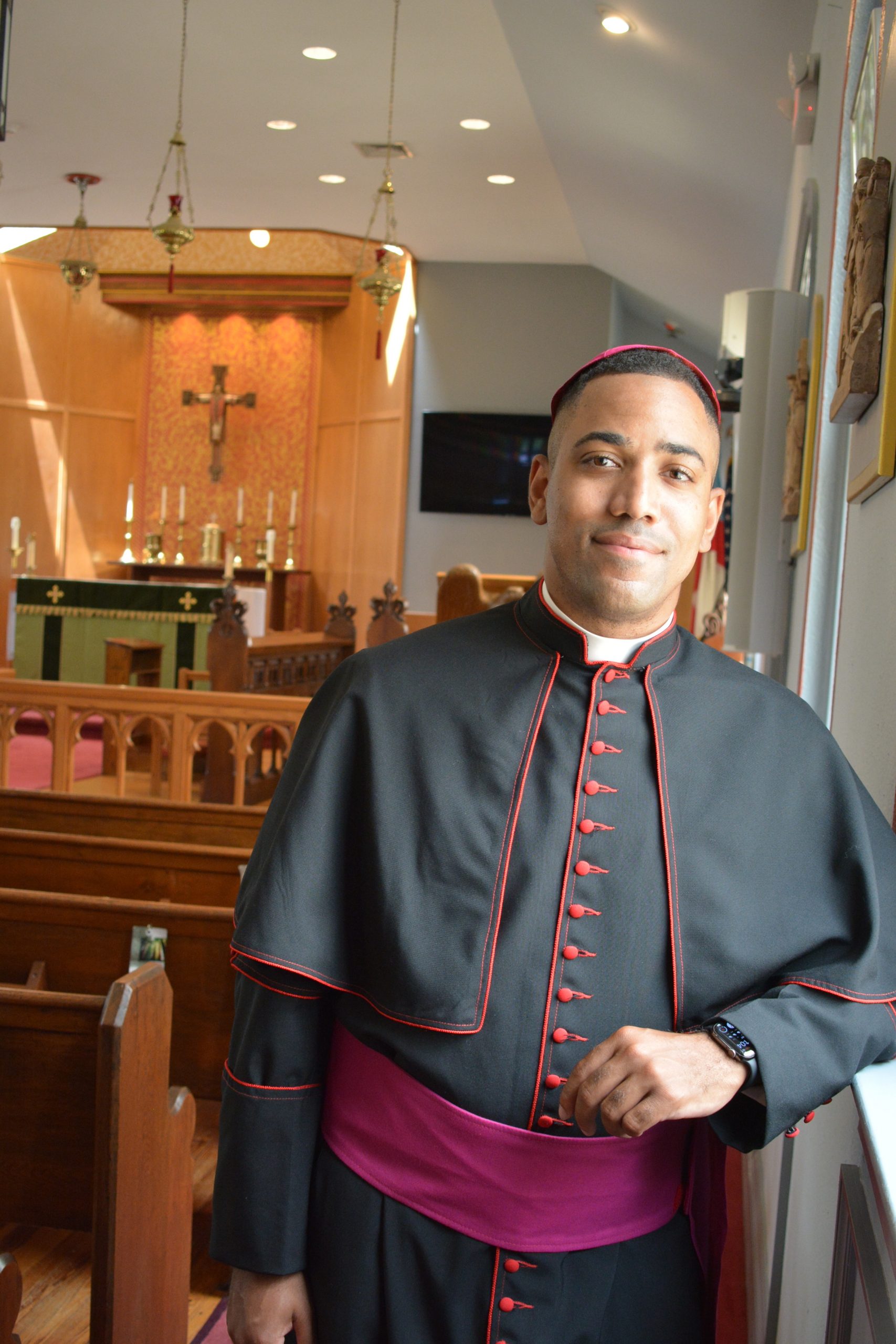 The Reverend Canon Jordan Francis Casson
Rector
The Rev. Canon Jordan F. Casson was born a Roman Catholic on Good Friday in New York City. Casson's formation and understanding of Catholic social teaching led him to become an advocate for civil and human rights, a vocation that led him to Morehouse College in 2005.
During his time at Morehouse, he taught tournament-level chess to elementary, middle, and high school boys and sang in the Morehouse College Glee Club at Morehouse.
Father Jordan also led several campaigns to free a Chatham County, Georgia inmate, Troy Davis. In addition to his civic activities at Morehouse, he joined the Martin Luther King Jr. Chapel Assistant Program — an organization designed to expose Morehouse students to theological principles for parish ministry and seminary education after college.
Consequently, he felt called to religious life and attended the Candler School of Theology at Emory University in Atlanta in 2010. While a student at Candler, he studied under a civil rights legend, the Rev. Dr. Barnard Lafayette Jr., and the Howard Thurman Scholar, Dr. Luther Smith. At Candler, his path led toward the Episcopal Church.
In May of 2013, Jordan+ received his master of divinity degree while interning at St. Paul's Episcopal Church of Atlanta. In August of 2013, he received the call to serve as the youth minister to St. Paul's Ivy Episcopal Church of Charlottesville as Director of Youth Ministries.
In August of 2015, Casson left Charlottesville to pursue an Anglican studies program at Virginia Theological Seminary. Father Casson completed this program in 2016. In July of 2016, Casson became the sixth rector of St. Michael's Episcopal Church. In November of 2020, Casson was commissioned Canon for Peace and Reconciliation for the Episcopal Diocese of Pennsylvania by the Rt. Rev. Daniel Gutierrez. In addition to serving as Rector of St. Michael's and a Diocesan Canon, he chairs the Diocese of PA Absalom Jones Committee and co-chairs its Loving Presence group. Casson is also sits on the chapter of The Philadelphia's Episcopal Cathedral.
He is a former member of the Episcopal Diocese of Virginia Commission on Reconciliation with Truro Anglican Church, a Church that left the Episcopal Church over human sexuality disagreements. In 2014, Casson received induction into the Martin Luther King Jr. Board of Preachers and Scholars. He is a proud member of Alpha Phi Alpha Incorporated and has served as an NAACP president for both New York and Georgia Youth Divisions. In his spare time, Father Jordan plays the violin and cello and is extremely devoted to his family, friends, and mentors.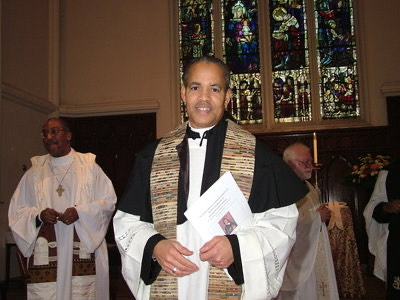 Father Darryl F. James
Priest Associate
Father Darryl F. James was born on July 3, 1954 in Bridgeport, Connecticut to Laurayne Farrar James and Anthony James, Sr. His family grew up in both Richmond, Virginia and Spring Valley, New York. He earned his B.A. degree from Howard University in 1975, and his M.Div. degree from Yale University in 1979. Upon graduation from Yale Divinity School, James was assigned to Trinity Cathedral in Newark, New Jersey, where he worked under the tutelage of Dean Dillard Robinson.
He was then ordained as a deacon in 1984 at St. Matthew's and St. Joseph's Church, where he was also appointed Assistant for Youth and Young Adult Ministries. In 1985, James was ordained to the priesthood by the Reverend John M. Burgess in Detroit, Michigan. Later that year, James became the rector of the Messiah-St. Bartholomew Church in Chicago, Illinois, where he remained for twenty-one years.
James was subsequently named to the Chicago School Board, serving from 1990 to 1995. Also in 1990, he was named the National President of the Union of Black Episcopalians. James then moved to leadership of the historic Grace Episcopal Church in Jamaica, Queens as Priest-in-Charge in 2007.
Three years later, he assumed the role as church rector and is now rector emeritus. A member of the Diocese of Long Island and the Queens community, James also joined the Investment Committee and the Episcopal Health Service Board of Managers, and co-founded the Downtown Jamaica Clergy.
He later served as president of the Queens Federation of Churches. James launched several initiatives at Grace Episcopal Church, including the Bishop Thompson, Jr. Summer Music and Arts Workshop, the annual Father's Day Men of Valor Luncheon, and the Volunteers Appreciation Dinner, among others. In 2005, James, in partnership with St.
Luke's Episcopal Church, assisted Hurricane Katrina victims in New Orleans, Louisiana, providing aid and performing mission work in the region. He also participated in a pilgrimage to Northern India, visiting the Diocese of Mumbai and North India in Delhi. James also sponsored college tours for prospective college students throughout the United States.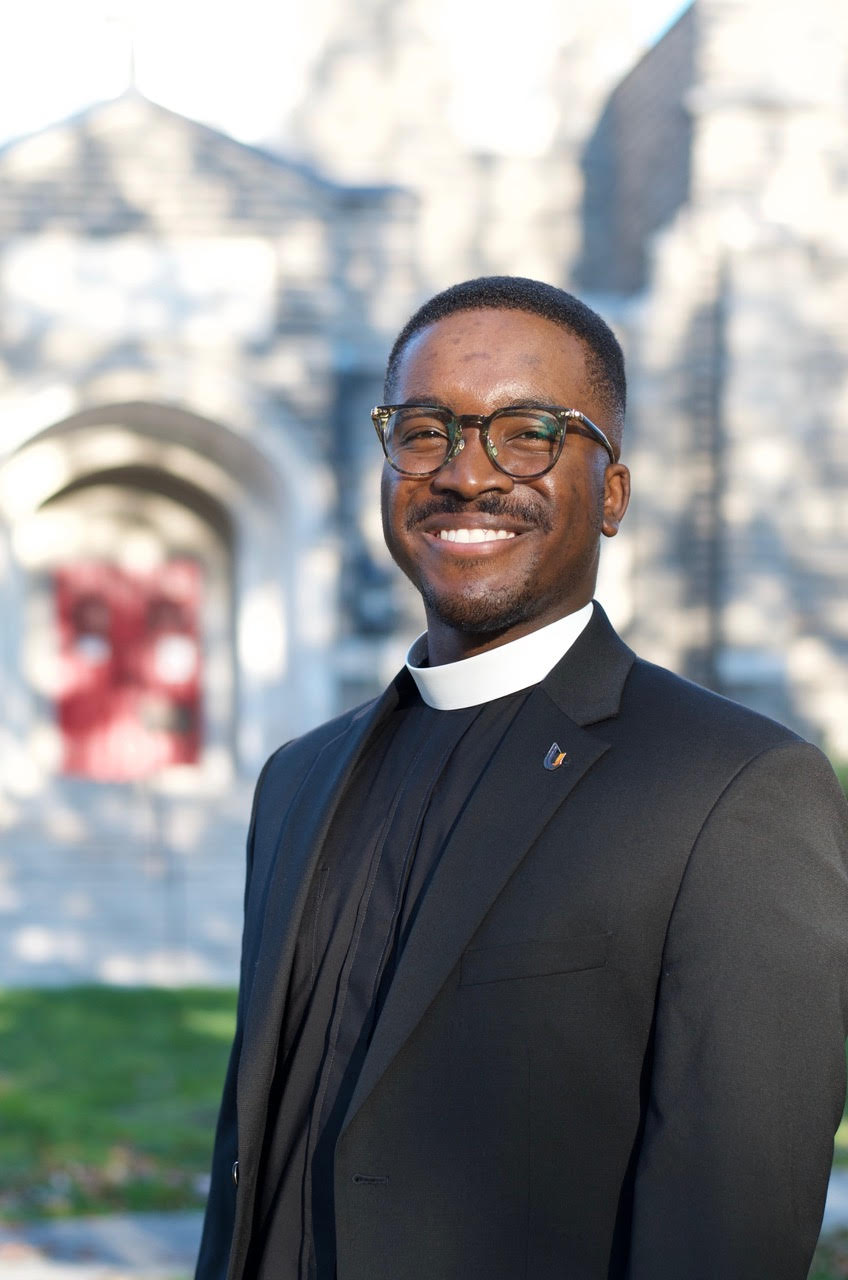 W. Roger Randolph III
Seminarian
W. Roger Randolph III is a senior at United Lutheran Seminary in Philadelphia, Pennsylvania, where he is pursuing a Master of Divinity with a concentration in Black Church Studies.
He is a Candidate for ordination to the Roster of Word and Sacrament (pastor) in the Southwestern Pennsylvania Synod of the Evangelical Lutheran Church in America (ELCA). He is also a Chaplain Candidate in the Pennsylvania Army National Guard, serving with the 103D Brigade Engineer Battalion.
From Pittsburgh, Roger is a 2019 graduate of the University of Pittsburgh, where he earned a Bachelor of Science in Industrial Engineering with a Minor in Africana Studies. He is a member of First English Evangelical Lutheran Church in downtown Pittsburgh.
Roger has a strong passion for liturgy, the history and tradition of the Church, and speaking eternal truths into our contemporary world. His hobbies include hiking, climbing, biking, running, skiing, and listening to NPR way too much.
The Vestry
Patricia Griffith Rector's Warden
Joanne Borders People's Warden
Comfort Pitts
Darrell Coleman, Sr.
Kerry Ann Turnbull
Marlon Jones
Remmie Williams